B

O

G

A

E

R

T


Erwin Bogaert
(* 8. Januar 1954 † 16.8.2013)
Der ehemalige Showroom-Designer bei Diesel Jeans arbeitet seit 1997 als selbständiger Künstler. Mit einem humorvollen und hinterfragenden Blick beleuchtet er zeitgenössische Trends.

Who is Bogaert? more..

Three questions more..

About the title "last upper" more..

Web:
- www.bogaertstudio.com
- www.palmbeachart.com

Email: bogaertstudio@yahoo.com

Bogaert in his studio on Zeedijk in Knokke (Belgium), working at his"Last Supper" in August 2007.
photo: © 2007 JL Gindt
The collection of this room:
the new cruisaders - triptique: Antwerp, 2006, 100x300cm

iPod Generation: Brussels, 2008, 155x120cm

last upper: Knokke, 2008, 150x140cm

Fear Of Heights: Los Angeles, 2002, 170x120cm

colorfulpeople: New York City, 2005, 220x150cm

Heart Beat: Miami beach, 2004, 150x150cm

theworldismine: Antwerp, 2006, 170x120cm

G-Clef/Schlüssel: Brussels, 2008, 60x50 cm

shock and awe: Los Angeles, 2001, 250x150 cm

earth: Antwerp, 2006, 100x100cm

Tabilban-A-Go Go: Antwerp, 2006, 100x100cm

September 11th: Antwerp, 2006, 100x100cm

hot studio, 2006

Dollars: Palm Beach, 1999, 30x80cm

The last supper by Jacopo Bossano and by Bogaert
Three questions to Bogaert (Knokke, July 2007)
jlg: In your Businessland series you decided to create a "Last upper". May I ask for the reasons.
Bogaert: "I see the last upper of Christ as a group of assiciates talking business around a table with the "Boss" in the middle, easy to make the step to the 21th century."
jlg: You choose to be inspirated by Jacobo Bossano who himself is inspirated by the "Last Supper" of Leonardo da Vinci.
Bogaert: "I choose Jacobo, because I like his composition better (more dramatic). Da Vincis symbolism doesn't fit my ideas."
jlg: You are not a "religious painter" and you aren't painting expressively religious or spiritual themes. Nevertheless I discover in a lot of your works a critic of our society with all its "new Gods". You're focussing with humor the human search for "More".
Bogaert: "The West is the best! :-) I like the 21th century with all the gadgets, logos, brands...the life. We must look forward to the future, to the globalization. We are responsible for life on our earth."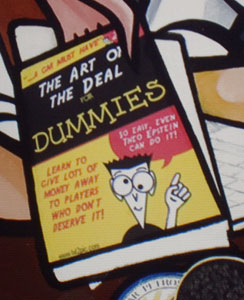 About the title "last upper" (Brussels, January 2009)
jlg: The title of your work is not "last supper" but "last upper"...
Bogaert: "The title "last upper" is a wordplay to underline the words "higher and "taller" in the Dubay window. The LAST upper because there is a limit in going up and a proper time to come down as you can see what happens right now with supercapitalism (the banks, the carindustry etc.. ).
jlg: And the message on the cover of the book?
Bogaert: The text on the cover is:
A GM must have
The Art of the Deal for Dummies
Learn to give lots of money away
to players who don't deserve it!
So easy, even Theo Epstein can do it!
GM: its american slang, meaning a jewel you need to have.
GM is short for gem = jewel, but you know GM stand also for General Manager...
And than I'm refering to Theo Epstein, the very young wonderkind sportsmanager of the boston red sox (the famous professional baseball team of the major baseball leage) and as far as I know, he is sort of a self made man, an american succes story.

Who is Bogaert?
Erwin Van den Bogaert started his career as a showroom designer for Diesel jeans in Paris in 1972. At this time he also opened his own designstore called DINK in Antwerpen, one of the first personal design stores, featuring one-of-a-kind furniture of his own design.
1989 he continued his career in Los Angeles, specializing in the fashion industry and painting murals in showrooms, restaurants and stores for corporations with branches in New York, Las Vegas, San Fransisco and Denver. In his free time he worked on his oil paintings.
In 1997 he left a successful businesslife to start his career as a fulltime painter and illustrator. His Popshop and Studio penthouse in the Boulevard hotel on Ocean Drive became a popular hangout for artists, celebritites and art collectors of the Miami beach party scene. His collection made here focusing on the South Beach party lifestyle gained media attention on American TV in the popular talkshow the Ava Cadell show.
After a short stay in Las Vegas, Bogaert moved to New York and a Soho-loft where to finish up his music-series; the history of popular music, from blues to jazz, to hip-hop and rap in 32 paintings, www.bogaertstudio.com
Since 2005 Bogaert is back in Europe, working on a series of paintings on popular culture, captured in logos and brands, as usual with the unique flashy Bogaert paintbrush.
Bogaert's latest project is "Businessland", a series of paintings in which we see businessmen, in crazy settings like rollercoasters, private jets turnmills and at the stockmarkets. These funny characters in the rat race of business are typical for the hand of Bogaert.
"I see beautiful people in beautiful cars, I see people out of luck and cool kids. I paint with all the enthousiasm I have, and I use Artoons as a language, because that's what we all are, funny characters."
Bogaert's paintings, fine prints, scetches and murals are in private collections around the world to this point. He has been called controversial, aggressive, prolific-brilliant. He has also been called a visual archaeologist of today's popular cultures. One thing is sure: The painter Bogaert grows restless easily and is always eager to break new ground.